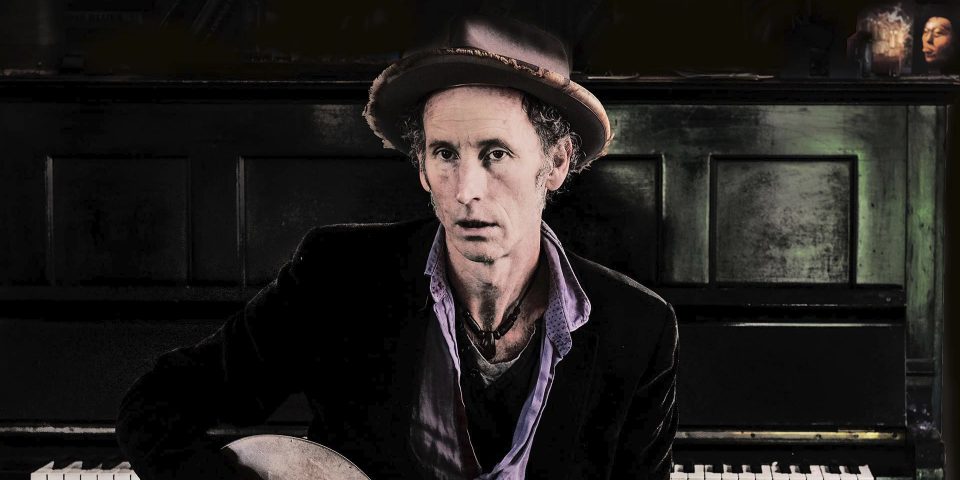 Matthew Robb is an UK singer songwriter, based in Cologne, Germany.
He developed a lyrical style of songpoetry that he now takes to the stage.
A selection of these searching tales and songs of praise to the everyday can be found on his latest release 'Spirit in the form':
There are stories that need to be told, relayed and communicated, somehow, through some medium, through some vessel, in a bottle, a book, a poem, a song.
SPIRIT IN THE FORM by UK singer and songwriter, Matthew Robb, is a collection of ten tales that needed telling. They are told here, played and sung within the sparse soundscape created at WabiSabi studios, in Cologne.
The fledgling label has released 2 albums in 2017 alone and this latest offering somehow copper fastens the passion and commitment of the label to stay true to the nature and soul of acoustic music.
Dark and dry, deep, dense…. the message is clear in each story.
By SLAVE SONG, you know and you stay. "Let Jesus make up my dying bed, even if it's where the Devil lay". A couple of guitars, bass and an honest vocal, sometimes, is all it takes to convey the best songs to the listener, the passerby, a SINNERMAN, a RIVER, UNTIL THEN, telling us all what the deal is…
"I listen to stone and trust in redemption as a way to atone" …
A LONESOME BURDEN there may be in life, but this piece reminds us that burdens are lifted, sometimes by bird song, a gentle breeze or in this case, a dancer, ever present, just a little bit behind, on wood and 6 cold strings… again you know, you believe.
BLOOD ON THE PILLOW; …."whiskey glass sits empty, cigarettes have all been rolled, as I toil with the memory, no arms could ever hold"…
The album, SPIRIT IN THE FORM, ends here, with Blood on the pillow, a song that makes me wish it wouldn't end, like all great songs and stories….there are movies in here, black and white, colour too…the book will not be shut for good…
"Hobo thumb tripping and outlaw blues. Matthew Robb is hunting authenticity
beat but not yet beaten, in a place of thieves, vagabonds, old dirt roads and restless dreams" ***** 
RnR Magazine
"Musically he occupies the borderland between the talking blues of Townes Van Zandt and the folk excursions of early Dylan. ………
a beautifully weighted meditation on death which transcends it's generic architecture"
Uncut Magazine
"The wordsmith of all time" Anthony Werneke, Replay Acoustics  www.replayacoustics.co.uk